Dealer Spotlight: Takin' It to the Streets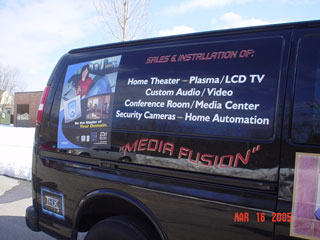 download high-resolution image
Russ Towers of Media Right System Automation Solutions is taking ZON Whole House Digital Audio to the streets of New Hampshire on the sides of his company vehicles.
"The eye catching nature of the ZON ads and clever use of headlines makes them ideal for our transit adverts."
Media Right is a ZON dealer located in Bedford. Russ specializes in custom high performance home audio, video, control and security systems. ZON is a strategic product for meeting the distributed audio performance expectations of his clients. According to Russ, "Media Fusion" offers one-touch solutions for the home that allow easy control of systems from any room, telephone or PC.
Visit Media Right on the web at www.mediarightsas.com.